Editors note: Snaptravel is a Toronto based travel company that has a long and documented history of serious customer complaints from around the world. Snaptravel is known for its reported poor customer service; inability to act on behalf of its customers, and its failure to address its own mistakes or problems that arise with its booking service. The site claims that it is a "booking service" and is not responsible for the bookings that people actually make through the site they themselves describe as a booking service (hence the word booking here.)
This article is one of many articles that are set to appear in our newspapers around the world and we think it is important for consumers to understand what they're getting into doing business with Snaptravel. Snaptravel has the potential to be an outstanding service, though, Snaptravel has been accused hundreds of times of leaving its customers out to dry with no assistance at all. Some of the claims range from outright refusing to help customers they book into hotels to claims that people were outright scammed out of their money under the pretense of false bookings.
WHAT IS SNAP TRAVEL?
Snaptravel is an online "booking" service that books people into hotels and such around the world. It is not particularly exclusive to one area. The service offers a variant of what they call "deals" although there are a wide number of complaints that we've managed to verify that should be red alarms to the common man/woman. One of the most popular complaints is that Snaptravel advertises deals that don't actually exist. This is evidenced in nearly a dozen or more different complaints spanning Trust Pilot to the Better Business Bureau. When we questioned Snaptravel over this — they repeatedly copied and pasted the same response from what appeared to be a Zendesk or Salesforce automation service help desk. No tangible comment was ever provided.
Where are they based?
Contrary to what they may claim online or what most may believe the company is not actually U.S based. According to the internet and what we could find, the group is largely based out of Toronto as it was previously built by a series of techies in the area.
How many complaints do they have as of 2021?
As of 2021, according to the Better Business Bureau Snaptravel has roughly 671 known complaints. The website also allegedly has a presence in San Francisco although various sites have quite a few addresses for them and it is unclear where they exactly are.
What triggered this investigation?
One of our editors was on Spring Break this year and decided to take a look at some of their reviews for an article assignment. Instead they took it to the next level and booked through Snaptravel themselves only to discover that many of the reviews are indeed correct. Snaptravel sold them and their party a falsely advertised hotel room that looked nothing like what was actually advertised online. The hotel room had mold on the shower ceiling; blackish stains on the bed, black marks and stains all over the walls, and human hair near the pillow on arrival.
Both the hotel in question (the Link hotel in Fort Lauderdale) and Snaptravel have declined to address the latest complaint all together. Snaptravel copies and pastes responses to any message board (as also evidenced by their BBB responses) and the hotel itself does not actually answer the phone. The hotel was not aware that members of that party were in fact reporters.
The latest complaint:
Over Spring Break last week — the following hotel room was sold to two travelers via Snaptravel as advertised as you see below.
This is what the party actually got upon arrival:
Similar complaints have mounted over the last year or so at various hotels around the world. We've rounded up some of the best ones which generally have all received the same generic copied response from Snaptravel: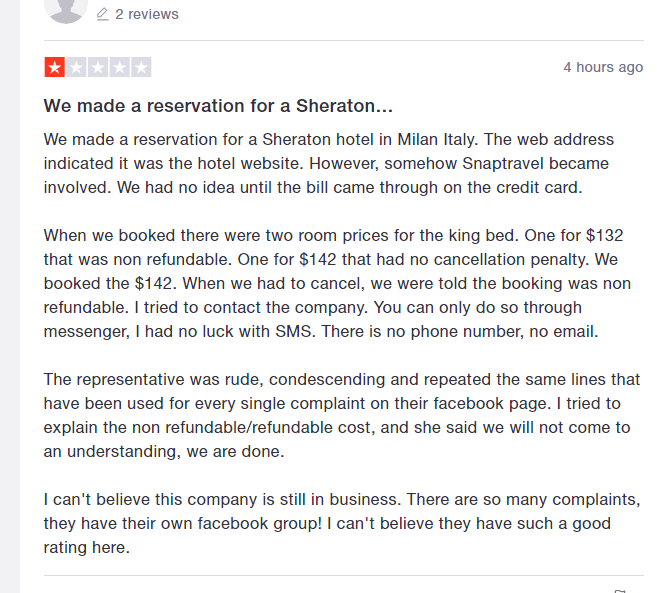 But it gets progressively worse and at times offending..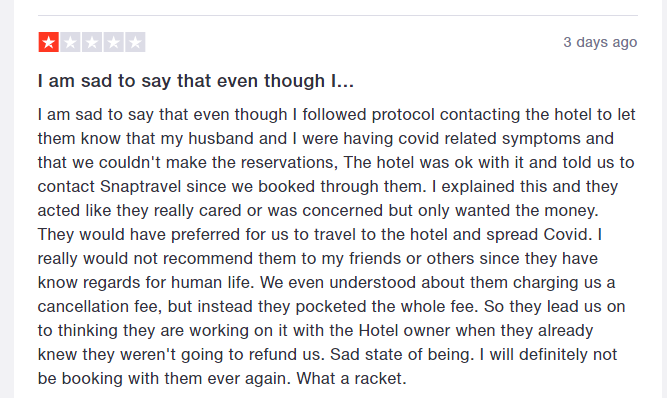 This one is very important because it is unfortunately very accurate. Allot of the hotels listed may charge deposits and such (which is rather typical) but Snaptravel fails to disclose that there are often significant other fees present. Ranging from deposits; to damage deposits, cleaning fees, amenity fees,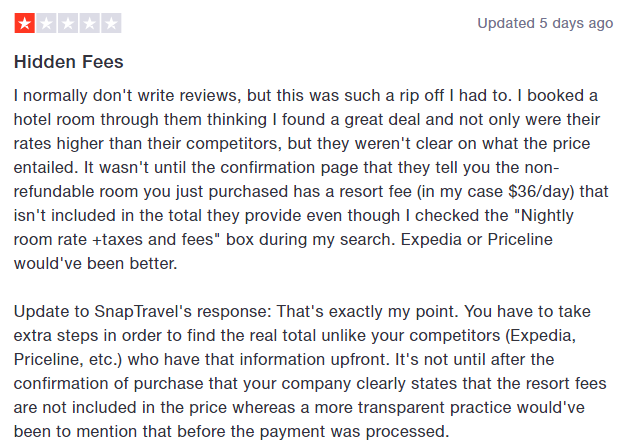 You can view even more of their reviews additionally on Trust Pilot.
Snaptravel did not respond to requests for comment by publication time.
Comments
comments