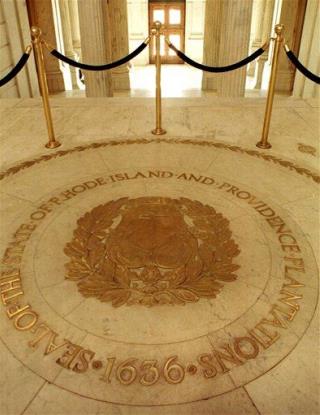 File photo of the seal of the State of Rhode Island and Providence Plantations, as seen on the floor of the Statehouse rotunda In Providence, R.I. (AP Photo/Susan E. Bouchard, File)
While some might've confused that name for a bizarre slavery era musical group — it in fact is the name of the state of Rhode Island. But as of today, government officials have announced that Gov. Gina Raimondo has made an effort through executive order to remove the last part of its little known name.
The effort comes amid widespread efforts to wash America of its racial history once and for all moving towards a country equal for everybody. It comes just days after a U.S statue in Portland featuring George Washington was torn down, and, just a day after the Museum of Natural History made a stunning announcement of its own.
Comments
comments