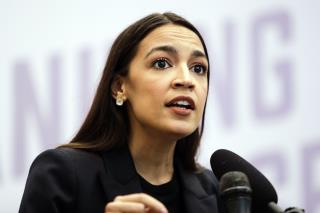 Rep. Alexandria Ocasio-Cortez, D-NY, speaks during a news conference on May 1, 2020, in the Bronx borough of New York. (AP Photo/Frank Franklin II)
In what is largely being called a trampling of constitutional rights — the NYPD has made a move that now apparently allows them to keep protesters behind bars for longer than 24 hours (even if there aren't any charges.) Per Law & Crime, the NYPD successfully argued to Criminal Court Judge James Burke that due to the "attacks on cops" and the "attitude towards cops" that most of the protesters can and should be held longer than what is actually allowed.
Habeas corpus (a centuries old legal doctrine) actually bans the detainment of someone for longer than 24 hours if there aren't any charges and the like brought against them. The NYPD reportedly applauded the move, although it is expected to be challenged considering it is almost illegal in every aspect one could think of.
New York Rep Alexandria Ocasio-Cortez launched attacks on the police and the judge on Monday morning deeming the move unconstitutional and an attempt to take away afforded constitutional rights.
"Civil liberties protect ourselves from governments using 'crises' and 'emergencies' as justification to dismantle our rights," the congresswoman tweeted.
Comments
comments